John is the driver of a flatbed HGV and is nearing the end of a 9 hour driving day. He has taken appropriate breaks. As he negotiates a right hand bend he notices in his mirror that a roll of steel has fallen from his vehicle, resulting in a pedestrian being injured.
It has been noted that the fuel consumption of John's vehicle is significantly higher than similar vehicles in the fleet.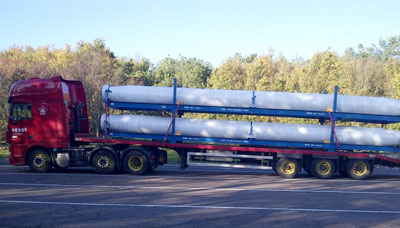 CPC Module 2 Mock Test
There are 5 multiple choice questions in this CPC Module 2 case study. Read this carefully and ensure you fully understand the scenario before starting the test. You need to score 4 out of 5 to pass. Good luck!
See all of our CPC Module 2 Case Study Mock Tests
About CPC Module 2

four tests
in total. The first two modules – module 1 (the
Theory Test
) and module 2 (the Case Study Test) of the Driver CPC can be taken in any order. However, the theory test must be completed before moving on to module 3 and module 2 must be completed before taking module 4. You have two years within which all test parts must be completed starting from when you pass the first module.
What does CPC Module 2 assess?
Module 2 of the Driver CPC qualification consists of case studies based on real-life scenarios. These scenarios demonstrate situations you may face and need to be able to deal with in your working life. The case study test allows you to demonstrate your knowledge and understanding and assesses you on how to put your knowledge and skills into practice. Remember, this module requires you to use what you have learned to make your own judgements on each scenario. The CPC Module 2 assessment lasts 1 hour and 30 minutes and tests you on 6 to 8 case studies. You will then be asked between 5 and 10 questions about the scenarios in each case study. Answers can be provided in 4 ways but will usually either be from a multiple-choice list or require you to click on certain areas of an image or photograph. As mentioned, you have to pass the Driver CPC Case Study Test before you are able to take Driver CPC Practical Demonstration Test (CPC Module 4).
As a professional driver of large goods vehicles, you could encounter any of the circumstances in the case studies during your working life. The questions asked are designed to make you think about how you should behave in each scenario. The Driver CPC Module Case Studies also assess 3 key skills:
Your knowledge – You will be tested on your basic ability to recall factual information.
Comprehension – You will be tested on your basic ability to understand situations you may face in your working life.
Your application of knowledge – You will be tested on your ability to practically apply your knowledge and understanding to real-life situations.
What can you expect in the CPC Module 2 test?
As outlined above, the test will last 90 minutes and be made up of between 6 and 8 case study scenarios. Before the test starts, you have 15 minutes to get to grips with how the testing equipment works. This means you will have 75 minutes in which to answer the questions on the case studies. You will be using a Visual Display Unit (VDU) like the one used for the Theory Test.
Each case study has between 5 and 10 questions asked about each scenario. However, whether you have 6 or 8 scenarios in your test you will always be asked a total of 50 questions. To register your responses, you can either use the mouse or the touch screen functionality of the VDU.
If you have already sat the multiple-choice and hazard perception tests for Module 1, then you will be familiar with how to use the VDU.
CPC Module 2 Questions and Answers
There are four possible ways you will be asked to answer the questions appearing on the right of your screen. These four ways are detailed below:
1. Multiple Choice Questions
As in the Module 1 theory test, some questions will require you to choose just ONE correct answer from a list of possible options.
2. Multi-response Questions
You may also have been asked questions like these in the theory test. For multi-response questions, you are required to select more than one right answer from a list of options.
3. Audio Questions
Some questions about the case studies require you to listen to an additional audio clip. You will need to listen to an audio clip to be able to answer these questions. Audio questions require you to choose just ONE correct answer from a list of options.
4. Hot Spot
Hot spot questions require the use of the mouse or a touch screen to click on appropriate areas of photographs or illustrations.
During the 15 minutes before the test starts, you will have the chance to practice answering questions asked in each of these ways. However, the practice questions will not be scored.
Once you have answered all of the questions relating to a case study you can click on the 'next' button located on the bottom left of the screen. This will take you to the next case study until you have completed 50 questions. You are able to double-check or change answers in previous case studies at any time if you realise you answered something wrong.
The CPC Module 2 pass mark
As of 21st March 2011, the pass mark for the Driver CPC has gone up to 40. You will be asked a total of 50 questions, so need a pass mark of 80% to pass your Driver CPC. Once you have passed Module 2 you will have 2 years to pass the Driver CPC 4 practical demonstration test.
How to prepare for the Driver CPC
In order to prepare for the Driver CPC module 2, there are a number of simple steps you can undertake. The key is to revise using example questions. However, note that the questions you will be asked during the test will not be exactly the same as the questions you revise. Nevertheless, they will be a variation of the questions and revising gives you the chance to be prepared with the knowledge required to answer the questions however they may have been asked. You should also:
1. Understand the Driver CPC
It will be useful to understand each of the different modules involved in the Driver CPC before taking this test. Make sure you understand the differences between Modules 1, 2, 3, and 4 of the Driver CPC.
2. Practice with our online resources
It is vital to practice with example questions. Our CPC module 2 practice material covers everything you need to pass the test. This includes:
Safe and Fuel-Efficient Driving (SAFED)
Load safety
Securing loads
Regulations governing carrying certain load types
Regulations that govern the prevention of trafficking
Regulations that govern driver hours and tachographs
Health & Safety at Work
Keeping yourself fit for the job
Dealing with emergencies
The role of a driver in a company or organisations
Organisation of freight transport
Other techniques for safe driving
3. Make sure to read example questions
You will need to read example questions on each of these areas. Make sure to read a variety of questions for each topic area to ensure you richly understand the subject.
4. Practice
It is a good idea to randomly practice answering questions from each of these sections. You may find you are more comfortable in some areas than others. Once you feel you are ready, it is advisable to take a practice test.
5. Practice tests
Once you have practised answering questions for each of the sections, it is a good idea to practice under exam conditions. This will help you feel more comfortable on the day of the test.
Results
You will receive the results on the day of the test as they are available within 10 minutes of completing the test. The pass letter is dated and you have two years to complete Part 4 of the Driver CPC from this date.
If you fail Module 2 of the Driver CPC, your results letter will explain why you have failed and provide feedback. You can book a re-test on the same day but this will take a minimum of three working days to be cleared and approved.