This article will take you through everything you need to know about where contraflow systems can be used so that you are clued up both for your theory test and can safely approach contraflow bus and cycle lanes, or contraflow systems on a motorway, after you have passed your test.
What is a Contraflow System?
To put it simply, a contraflow system is defined as a temporary arrangement where traffic flows in the opposite direction to how it should normally flow and is most commonly used on motorways. However, given developments in traffic management, the contraflow system meaning has shifted and no longer only refers to temporary traffic arrangements – it can also be a permanent fixture for buses and cyclists in busier areas.
Make sure you are familiar with the contraflow system sign as you may be asked to interpret this sign in your driving theory test – it can come in different variations depending on the situation so ensure your revision is thorough.

Contraflow System on a Motorway

You will most commonly find a temporary contraflow system in place on a motorway. When repairs need to be made, roadworks are in place or even if there has been a major accident that requires one side of the motorway to close, there can be a contraflow system put in place to minimise disruption to drivers.
When a contraflow is put in place on a motorway, traffic will be directed to drive on the other side of the motorway so that traffic is kept moving. This is usually marked by traffic cones which become the lane markings and separate the incoming and oncoming traffic.
There are important safe driving practices that need to be put into action when you face a contraflow system on a motorway. In this situation your only separation from oncoming traffic is likely to be traffic cones so there will be no permanent barrier, the lanes are also likely to be narrower. For this reason, it is essential that you get into the right lane in good time and stay in your lane throughout the contraflow. It is also important to keep a safe distance from the car in front of you and make sure you are aware of, and adhere to, any temporary speed limit signs.
Other hazards you need to look out for are broken down vehicles or potential debris left over from an accident or spillage that may be present throughout the contraflow. The hard shoulder might also be out of action when there is a contraflow system in place as it may be used for traffic, so it is also important to be aware of this possibility and to adapt your driving accordingly.
Contraflow Bus Lane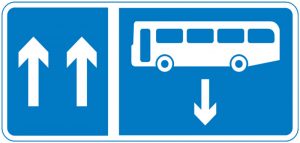 Contraflow bus lanes were brought in to aid the flow of traffic and help to speed up bus routes that previously sat in heavy traffic. In this way, contraflow bus lanes are able to avoid congested areas and follow direct routes to their destination.
It is most likely that you will see a contraflow bus lane on a one way street with the bus lane taking the opposite direction. You will be instructed that there is a contraflow bus lane on the road via a blue road sign – make sure you are familiar with this sign as you may be asked to identify this on your theory test and you need to know how to identify a contraflow bus lane when you are driving. Making sure you are a familiar with contraflow bus lanes is a sure fire way of securing those all-important marks to gain your theory test pass certificate.
Contraflow Cycle Lane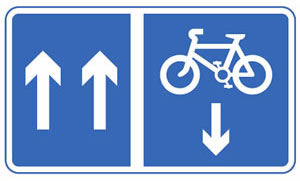 Now you have got to grips with contraflow bus lanes you will need to familiarise yourself with the contraflow cycle lane. These lanes are designed to help with increasing the safety of cyclists on the road by helping them to avoid busy roads and tricky junctions. The contraflow cycle lane does this by offering a separate cycle lane to cyclists which allows them to cycle in either direction on the road.
You need to be aware of this as a driver as it is essential that you are in tune to the potential hazards around you and are aware of the possibility that you may encounter cyclists travelling in the opposite direction to you in close proximity. Be observant of blue road signs that indicate when a contraflow cycle lane is in place and make sure you keep your distance and give cyclists plenty of space.
Contraflow System Theory Test Questions
The driving theory test frequently includes questions about contraflow systems – including bus, cycle and motorway contraflows – so making sure you are fully prepared in this area is a must.
The topics related to contraflow systems that you are likely to find in the theory test are listed below:
How to drive safely through a contraflow system
Identifying the contraflow road signs
How the speed limit is effected by a contraflow system
Where a contraflow bus or cycle lane is most likely to be
You may come across the following contraflow system questions on your theory test:
Be sure to revise all of these areas well and get one step closer to that driving theory test certificate!
Conclusion
Contraflow systems can be disorientating as a driver so making sure you are fully prepared for these scenarios is essential, both in terms of revising for your driving theory test and to make sure you are ready to safely face the open road.
There are three different types of contraflow systems: motorway, bus, and cycle lanes – getting to grips with all three of these can be done with the careful revision of the relevant road signs and studying the traffic flow scenarios for these systems. In this way, you have key information to hand when you need it most.