Question Topic: Attitude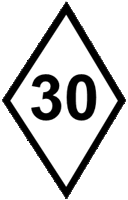 Mark one answer
In the UK, diamond-shaped traffic signs are used to instruct tram drivers. As such, tram drivers are the people who need to directly obey their rules. Nevertheless, it is important to be aware of their meaning if you are to use the road safely. They are also an important part of the Highway Code and you may be asked questions about them during your theory test. As such, you should be aware of who they are for and what they indicate. This will help you to use the road safely for yourself and other road users.
What should you do if you see a diamond-shaped traffic sign?
Even if you are not a tram driver, you should still take notice if you see a diamond-shaped traffic sign. For example, you should be prepared to give way if you see a diamond-shaped traffic sign, especially if you also see tram area markings. Tram area markings may indicate an area which trams have the right to move through and you do not. However, at some points, you may need to pass through a designated tram lane. Take the time to learn about the rules and special circumstances governing trams in the Highway Code. This will help you to develop good anticipation of the movement you can expect around tram lines and to adjust your speed accordingly.
Theory Test Question
Have you answered the theory test question: Who should obey diamond-shaped traffic signs? Let's take each answer in turn and check your understanding of this area.
Lorry Drivers
Wrong! Signs for lorry drivers use standard sign shapes and colour coding with additional messages for lorry drivers when necessary.
Tram Drivers
Correct! Diamond-shaped signs should be obeyed by tram drivers. However, drivers should be aware of what they mean to ensure they are able to anticipate their movements and safely share the road when there are tram lines.
Bus Drivers
Wrong! Signs for buses are usually in blue and accompanied by specific road markings and standard restrictions will apply unless otherwise stated for buses. However, some routes are used for buses and tramcars only so it is important for bus drivers to be aware of the instructions in diamond-shaped traffic signs.
Taxi Drivers
Wrong! Whilst taxi drivers need to be aware of what diamond-shaped traffic signs mean, they are not required to obey the instructions of these signs.
References
In section 7 of the official DVSA guide to driving, it states:
Diamond-shaped signs or white light signals give instructions to tram drivers only.
On page 31 of Know your traffic signs, it states:

Rule of 300 of the Highway Code states:
You MUST NOT enter a road, lane or other route reserved for trams. Take extra care where trams run along the road. You should avoid driving directly on top of the rails and should take care where trams leave the main carriageway to enter the reserved route, to ensure you do not follow them. The width taken up by trams is often shown by tram lanes marked by white lines, yellow dots or by a different type of road surface. Diamond-shaped signs and white light signals give instructions to tram drivers only.
Law RTRA sects 5 & 8
Ready to go premium?
Registration is quick, easy and hassle-free!