Question Topic: Road and traffic signs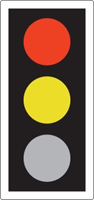 Mark one answer
Stop because the lights are changing to red
Take care because there's a fault with the lights
Pass the lights if the road is clear
You should only ever move past the STOP line at traffic lights when a green light is shown. Even when the green light does show, it is important to proceed with caution to ensure that the way is clear ahead. Depending on the junction and other people's application of the rules of the road, there may still be traffic clearing on the junction as you approach it. When you see a red and amber light showing you should ALWAYS wait for the GREEN light to show.
What do the different light combinations mean?
On a basic 3 light traffic light display, there are 4 light combinations which mean the following:

Red – Stop and wait behind the stop line.
Red & Amber –  Stop and wait behind the stop line. Wait for the green light to show before passing through.
Green – You may go as long as the way ahead is clear. Take care if turning left or right and give way to crossing pedestrians.
Amber –  You should stop at the stop line unless pulling up might cause an accident.

Theory Test Question
Have you answered the theory test question: What should you do when approaching traffic lights where red and amber are showing together? Let's check your understanding by looking over each possible answer:
Stop because the lights are changing to red
Wrong! Whilst you should stop, the next light after you see a combination of red and amber will be green. However, do not try to creep forward and/or pass the stop line until the green shows.
Wait for the green light
Correct! When you see the red and amber lights showing you should wait until the green light shows before moving off. Other traffic may still be clearing the junction so be sure to check it is clear when moving off.
Take care because there's a fault with the lights
Wrong! You should stop until there is a green light. The red amber combination is also one of the 4 combinations you can see on a 3 light traffic light. As such, it does not indicate a fault. You should also always take care when moving off even if there is a green light.
Pass the lights if the road is clear
Wrong! You should not pass the stop line until the green light shows.
References
In section 6 of the official DVSA guide to driving, it states:

Ready to go premium?
Registration is quick, easy and hassle-free!