Question Topic: Safety and your vehicle
Mark one answer
Unless you are exempt, the law requires you and any of your passengers to wear a seat belt or an appropriate child restraint. Whilst the seat belt condition will be tested during the MOT, it is your responsibility to ensure its condition is maintained in-between times. Passengers over 14 are responsible for fastening their own seatbelt. The driver holds responsibility for ensuring those aged 3-14 have fastened their seatbelts. For children under 3, the driver is responsible for ensuring an appropriate child restraint is being used.
Who is exempt from wearing seat belts
People who both qualify for a medical exemption AND have the necessary paperwork to prove this are exempt from wearing a seatbelt. They will need a 'Certificate of Exemption from Compulsory Seat Belt Wearing' and should inform their insurance provider. The only other exemptions regarding when you don't need to wear a seat belt are if you are:
A driver who is reversing
Supervising a learner driver reversing
Investigating a fault as a passenger in a trade vehicles
Driving no more than 50 metres between deliveries in a goods vehicle
A licensed taxi driver carrying passengers or 'plying for hire'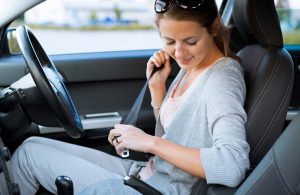 Theory Test Question
So, did you answer the theory test question: What does the law require you to keep in good condition? Let's take a look at all of the answers individually to understand them better:
Seat belts
Correct! The law requires seat belts to be kept in good condition. Seat belts reduce the risk of death by 45% and serious injury by 50% for front-seat passengers so must be kept in good condition at all times.
Gears
Wrong! As you are not a mechanic you are not expected to be a mechanic you are not responsible for your gears. You would also notice if your gears were not working.
Transmission
Wrong! If this does not work the car will not move, so you will not be a danger to yourself or others. Again you are not expected to be a mechanic either.
Door locks
Wrong! Your insurance may require you to ensure your locks are fully functional but you are not responsible for these by law.
References
In section 2 of the official DVSA guide to driving, it states:
Seat belts save lives and reduce the risk of injury. Unless you're exempt, you must wear a seat belt if one is available.
The following table summarises the legal requirements for the wearing of seat belts. It's important that seat belts are always correctly adjusted and are comfortable, with both the lap belt and the diagonal belt, where available, protecting the body.

The driver is responsible for ensuring that all children under 14 years old wear seat belts or use an approved child restraint. You may temporarily release your seat belt while carrying out any manoeuvre involving reversing. However, you MUST refasten it once the manoeuvre has been completed.
If an inertia reel seat belt has temporarily locked because the vehicle is parked on a gradient, you may move the vehicle to release the mechanism. As soon as the mechanism has released, you should stop and put on the belt.
Ready to go premium?
Registration is quick, easy and hassle-free!