Question Topic: Attitude
Mark one answer
It can improve your vehicle's fuel consumption
It can make the engine difficult to start
It can increase the level of exhaust emissions
It can make the roads slippery for other road users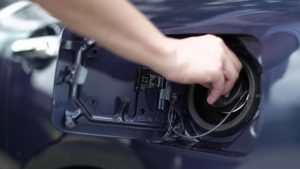 It is important to ensure that your filler cap is not loose whether you have a diesel or petrol engine. However, it is particularly important if you have a diesel engine. This is because fuel can spill out of your tank if your filler cap is missing or is not properly secured. This is more likely to occur when making turns at bends, junctions, and roundabouts. If you have a loose filler cap you are also more likely to end up with unwanted foreign materials clogging up your fuel filters and dust getting into your tank. It can also cause issues with evaporative emission controls and in hot weather may make fuel consumption worse. A missing or loose cap may also cause your engine light to turn on.
Why is spilt diesel on the road dangerous?
Spilt diesel on the roads is particularly dangerous because it reduces traction between tyres and tarmac. This is particularly dangerous on wet roads. However, even on dry roads, spilt diesel on the roads can mean friction is reduced to the equivalent of a road covered with snow. During long spells of dry weather, spilt diesel can also be more problematic as it is not washed away by the rain. Diesel spills are most commonly the result of either overfilling the tank or a loose filler cap. Spilt diesel is also a particular danger for motorcycles because it often spills in areas where two-wheelers need friction the most.
Theory Test Question
Have you had a go at answering the question: What can a loose filler cap on your diesel fuel tank cause? Let's check your understanding by considering each of the answers in turn.
It can improve your vehicle's fuel consumption
Wrong! A loose filler cap is likely to increase your fuel consumption rather than improve it due to the increased risk of evaporation and spillage.
It can make the engine difficult to start
Wrong! A loose filler cap will not prevent the engine from starting, although it may cause the engine light to appear.
It can increase the level of exhaust emissions
Wrong! Whilst fuel consumption may increase, the level of exhaust emissions will not be affected by a loose filler cap.
It can make the roads slippery for other road users
Correct! A loose filler cap on a diesel fuel tank can cause the road to become slippery for other road users. This is particularly dangerous in wet conditions, although a huge amount of traction is also lost in drier conditions.
Ready to go premium?
Registration is quick, easy and hassle-free!